The Felice Brothers
Brudenell Social Club, Leeds.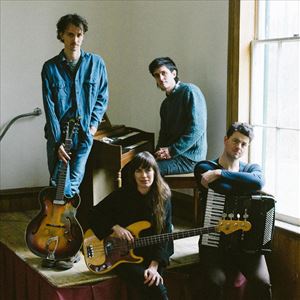 14+ only. 14s to 15s must be accompanied by an adult. No refunds will be given for incorrectly booked tickets.
More information about The Felice Brothers tickets
The Felice Brothers' new album, their first in three years, is due for release via Yep Roc Records on May 3rd. Cut live to tape with very little overdubbing, 'Undress' was recorded in the late summer of 2018 in Germantown, New York. Band members Ian Felice, James Felice, Will Lawrence (drums) and Jesske Hume (bass) teamed up with producer Jeremy Backofen to record their most personal and reflective album to date.
"Many of the songs on the new album are motivated by a shift from private to public concerns," says songwriter Ian Felice. "It isn't hard to find worthwhile things to write about these days, there are a lot of storms blooming on the horizon and a lot of chaos that permeates our lives. The hard part is finding simple and direct ways to address them."
Undress follows the band's 2016 album Life In The Dark, and finds the group in a very different place three years later. Between personnel changes, families growing and the political landscape, the result is a tighter, more-paired down release. "Every song is a story," said James Felice. "On this album everything was a bit more thoughtful, including the arrangements, the sonic quality and the harmonies."
Stream the single "Undress" here > https://www.youtube.com/watch?v=ql-GZo_gxXk
Stream the single "Poor Blind Birds" here > https://www.youtube.com/watch?v=vZ3uUjN08QY
Ian and James Felice grew up in the Hudson valley of upstate NY. Self taught musicians, inspired as much by Hart Crane and Whitman as by Guthrie and Chuck Berry, they began in 2006 by playing subway platforms and sidewalks in NYC and have gone on to release nine albums of original songs and to tour extensively throughout the world. Following the release of Life in the Dark, The Felice Brothers served as the backing band for Conor Oberst's 2017 release Salutations and the subsequent tour.
1. Your ticket purchase constitutes a personal, revocable license and, at all times, remains the property of the promoters. This ticket must be surrendered to the promoters upon request.

2. Your ticket/s are sold by the promoters directly to you the consumer. Any tickets purchased by business or traders in breach of the terms and conditions of ticket sale will be cancelled. By accepting these terms and conditions you confirm that you are a consumer.