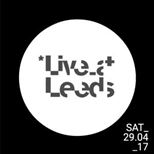 Live At Leeds 2017
Various Leeds Venues, Leeds
Performing: Rag N Bone Man, Slaves, White Lies, Wild Beasts, Nothing But Thieves, DMA's, Frightened Rabbit, Gabrielle Aplin, Jagwar Ma, Teleman, Temples, The Hunna, The Pigeon Detectives, AJ Tracey, Black Honey, Childhood, Clean Cut Kid, Ekkah, Fickle Friends, Honeyblood, Jake Isaac, JAWS, Let's Eat Grandma, Lewis Watson, Rationale, Seafret, Superfood, The Amazons, The Big Moon, The Magic Gang, The Moonlandingz, Tom Grennan, VANT, Aine Cahill, Amber Arcades, Banfi, Be Charlotte, Casey Lowry, Chinah, Clay, Dead!, Dream Wife, Flamingods, Francobollo, Gang of Youths, Get Inuit, Johnny Lloyd, KYKO, Leo Stannard, Liv Dawson, NGOD, Redfaces, She Drew The Gun, Siv Jakobsen, Strong Asian Mothers, Tender Central, The Orielles, Tom Hickox, Trudy and the Romance, Weirds and Wyvern Lingo
This event is for over 14s only - No refunds will be issued for under 14s.
The Live at Leeds 2017 wristband exchange will be at the First Direct Arena, Leeds. It will be open between 10am - 6pm on the day of the event.
All cutsoemrs MUST get their wristbands before going to venues and cannot collect wristbands for anyone else.
Event Information and Terms and Conditions Of Sale
Tickets for the Live at Leeds all day event on Saturday 29th April 2017 must be exchanged for a festival wristband. There will be no admittance to venues without a wristband.
Tickets are to be exchanged for a wristband at wristband exchange (opening time and location TBC) on Saturday 29th April 2017 only.
The ticket holder must be present at the wristband exchange point. Under no circumstances can you collect wristbands on behalf of other ticket holders, as the wristband must be fitted by Live At Leeds staff only.
Please arrive at the wristband exchange allowing plenty of time to collect a wristband before performances begin. Please note that some acts will be very popular, so we would advise you arrive at venues in good time to avoid disappointment.
Wristbands allow entry to each of the participating venues, individual venue capacities permit. If the venue is already full you will not be allowed to enter.
The advertised line-up may be subject to change. No refunds will be issued unless the entire event is cancelled.
Tickets cannot be transferred, exchanged, refunded or returned unless the event is cancelled.
No duplicate tickets will be issued for lost tickets.
In order to facilitate the security, safety and comfort of all guests, all venues reserve the right to refuse admission.
Admission is at the ticket holder's risk. The promoter and the individual venues shall not be held liable for any loss, injury or damage sustained within their premises.
The event age restriction is 14+. Management reserve the right to check ID.
Please note that there will be filming and photography taking place at this event and by purchasing a ticket you are giving consent for the use of this footage.
Please keep checking www.liveatleeds.com for event updates